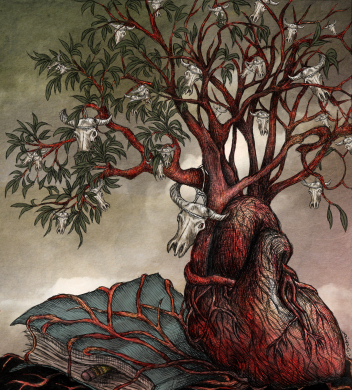 HIMAGSIK NG MGA PUNO (Mutiny Of Trees) | Novel | Published by Tapat
ULTRAVIOLINS | Short Stories | Published by University of the Philippines Press
The Family That Eats Soil
Khavn De La Cruz
1
"Soil again," groaned Baby, who was turning one on Saturday. "Soil for breakfast, soil for lunch, soil for dinner. Soil for snacks. Don't tell me we'll be having soil on my first birthday." "There, there, child," said Mother. "I promise we won't have soil." "What then?" "It'll be a surprise." The words were barely uttered as Baby's face lit up while munching on stewed soil.
*
"Aaaah! Aaaah!" In a dark alley in Suburville, the eighth teenager was having his way with Sister who was as beautiful and frigid as a mannequin while being recorded on video by the next kid in line. "Aaaah! Aaaah!"
*
"Please pass the fish sauce," said Father. Someone passed the fish sauce. Still, Father thought, he hadn't gotten it. So he went to the sea and caught some fish and fermented it until it because fish sauce. Father's finally happy. No thanks to his good-for-nothing children.
*
"So? Are you gonna confess or not?" Whoever Brother was asking couldn't answer, confession or not. Because his eyes were bulging, his mouth gagged and his head was in a vise-grip. "Motherfucker! You're really bullheaded!" Brother whipped a metal pipe and crushed his chest.
*
Mother cut herself on a chipped plate while washing the dishes. Blood mixed with water in the sink. Mother's fingers continued to bleed as she remained oblivious to the war between blood and water.
2
"Your cooking's really great, Mother! You're the best!" said Brother, even as he stopped himself from puking out latest dish of soil. He felt it wasn't cooked enough. And too salty. But he couldn't find the strength to say anything to hurt his mother. Not even during that one time when she kicked him hard. However much bad the cooking was. Because it was clear that he wouldn't be there if it weren't for his mother. Brother knew how to be grateful. Exemplary child of an exemplary mother in an exemplary family.
*
Father was mixing up a new medicine concoction from the dextrose bottles he had taken from children's ward of Troma Hospital. During their break, the nurses and doctors were whispering conspiratorially at the canteen. Father had just come up with his new brew in his basement lab early that morning and named it "Gardener." Once it enters the bloodstream, all the red blood cells turn red and plants will sprout from every orifice: eyes, mouth, nose, ears, asshole, etc. In other words, you're dead meat. The children's ward of Troma Hospital smells lovely.
*
Sister still doesn't have an appetite. Is it because she's on a diet. Is it because she's stoned. Is it because she doesn't like stewed soil. Is it because she's had too much spunk. Is it because she's deliberately starving herself for her date later with Prince Charming. Is it because Father always gets mad at her for coming after her midnight curfew. It is because she had a tiff with Mother about the new curtain's color in the sala. It is because she thinks Brother stinks to high heavens. It is because she's grossed out by Baby who refuses to wear diapers or any underwear, walking around in all his fresh glory. It is because her soul is in another dimension and food tastes better there. It is because her soul is next door where the new tenant is a hot-looking bachelor. It is because she has no more will to live. It is because she doesn't like eating with her family anymore and doesn't believe in the saying "The Family That Eats Together Stays Together". It is because she really has no appetite.
*
When Mother wasn't looking, Baby slipped out of the house, went to the bus stop, headed straight for Aparri, passed by Tawi-Tawi, stopped over at Libangon, then went back home, all this before Mother looked at the crib and cooed, "Kuchi-kuchi coo, I love you!"
*
Mother still doesn't want to sit down. Hands over the rice here. Gets a glass of water there. Since Father forbade Mother to get a maid, Mother became the maid. Father's a real class act. Imagine, your maid has a PhD in Economics, president and founder of Arkweist, graduated summa and valedictorian from grade school until post-grad, aside from the fact that she's your mother.
3
Sister's the best. Every hole in her body has a "Welcome" sign. Be it a wound. Be it her navel. Be it infected. Be it gets worse. Then again, what are her doctor-clients for? She's a real pro.
*
"Please pass the soy sauce," said Father. He doesn't really need soy sauce to complete his dinner. In fact, just a drop would be enough to turn his stuffed soil dish into a culinary delight and make him puke when he sleeps. He just has his crazy fits. And he wants you to have it, too.
*
The police are once more chasing Brother and his gang. It doesn't seem to matter how much you pay them off, their pockets are really deep. Ester got hit. He's down. Brother can't stop to help even if they got circumcised at the same time, de-virginized at the same time at Bad Luck Club by a whore with FDT, killed their first Chinese at the same time. Because he knows a bullet is a bullet is a bullet. Because he knows, the Chinese guy had paid the cops double. Because he knows, things like this happen in war. Us versus You. To hell with dead friends.
*
Baby's sleeping on Mother's bosom. Hungry as hell. A bottle of powdered milk's stuck up in nose, a mixture of cow and goat's milk is running on IV through his veins, while he's suckling poor Mother's teats.
*
Business' still good at the wet market. Even for the blind. Mother still gets three hundred for a blind whore. A blind whore! This new drug, "Mice," really fucks you up. Sells like hotcakes. Supplies snatched up before you can even blink.
4
Father can't get enough. His hunger is insatiable. Even when everyone at Troma Hospital's had their fill, from fine patients to sickly doctors, he still can't get enough. He's shivering in the shadows of the alley. Like a cat starving for a week. Like an addict in a basement. Waiting. For fish going flip-flop on dry land. For a wayward hit. Drizzling.
*
Brother's plate is licked clean. You'd also clean yours if you were beaten up as a child for not finishing everything until your backside was sore. Then you'd have nightmares at night: hunted by leftover rice that would catch up and stick all over you, then turn to rice paste, you turning to rice paste, until it's impossible to even move, much less escape, until it dissolves, but it wouldn't matter because you're part of it and you're not sure if you had dissolved yourself.
*
Baby's gone AWOL again. The whole family's looking for him. Where's their beloved baby? Finally, they find him at the cockpit. The gamblers had mistaken him for Christ. Oh Baby, what have you gotten into now? Too bad though, he had bet on the loser cock that offed the winning Texas breed.
*
Mother is wailing in front of her soil stew. She forgot it's forbidden to cry at the dining table. Father stood up and stomped out of the house. Mother's wailing became louder. Sister and Brother followed. So did Baby. When she was left alone, Mother abruptly stopped crying and gorged on her favorite dish.
*
"You're really delicious!" moaned the greasy stink-turned-shit-turned-man pumping on top of Sister. "You're the best!" Sister wasn't enjoying herself at all. She wasn't high on uppers like Phoenix. She wasn't crashing on downers like Germs. She wasn't getting wet on her OST aphrodisiac. Wasn't horny. Wasn't happy. But she's here. Not there. And all the doors and windows have been sealed up.
5
Brother couldn't erase from his mind the final look of Ester. The one with with pieces of brain oozing out. It wasn't even decent image of Ester's, before the tragedy. He's gone, so why's he still here? Ester is Father. Ester is Mother. Ester is Sisters. Ester is Baby. Brother gagged and rushed to the toilet. Even in the mirror, Ester is Brother. But Ester's dead and Brother's still alive, right? Right?
*
Father is one lucky bastard tonight. Guess who's coming closer? The president himself. Why is the president walking under the rain in the dead of night? It's forbidden to ask things that aren't important. Action speaks louder than words. And Father started to do what he had to do. Even if it was late at night and it meant risking pneumonia.
*
It's Sister's turn to lead the prayer. "Bless (I can't take it anymore!) us (Please have mercy!) O (You motherfucking cunts!) Lord (Aaaah!), and (Shit!) these (Fuck!) thy (My God!) gifts (Help!), which (Let me out!) we (Haven't you had enought?) are (Fuck you!) about (Don't you have any soul?) to (Don't you have any sisters?) receive (Don't you have a mother?) from (Help!) thy (Jesus Christ!) bounty (Beasts!), through (Just kill me!) Christ (I'll kill you all!), our (Lunatics!) Lord (Assholes, all of you!), Amen (Fuck you!)." And Sister had no more appetite left at all.
*
Mother is opening a new branch today. The ninth Love Heaven at New Metropolis. Complete with every new gadget for one's pleasure and satisfaction. The winners of the Miss Love Heaven contest have just arrived. Smelling sweet and fresh. Cutting the ribbon at the opening ceremony is Domina, former Miss Love Heaven International.
*
It's Baby's birthday. They won't be having soil. Not barbecued soil, not carbonara soil, not soil stew. There's no trace of soil on the table. Baby's surely estatic. If only he was there. But Babywas there. Get it? Hahaha! Served up on a silver platter. Hahaha! Whathefuck… You got me there.
"The Family That Eats Soil" is part of Khavn's short story collection Ultraviolins published by UP Press. It has won the Don Carlos Palanca Memorial Awards for Literature in the Short Story category and the film adaptation of the same title had its world premiere in Rotterdam International Film Festival 2005. This version, translated by Singapore-based poet Mayo Uno Martin, was also published in Philippine Speculative Fiction Vol. 1, 2005.